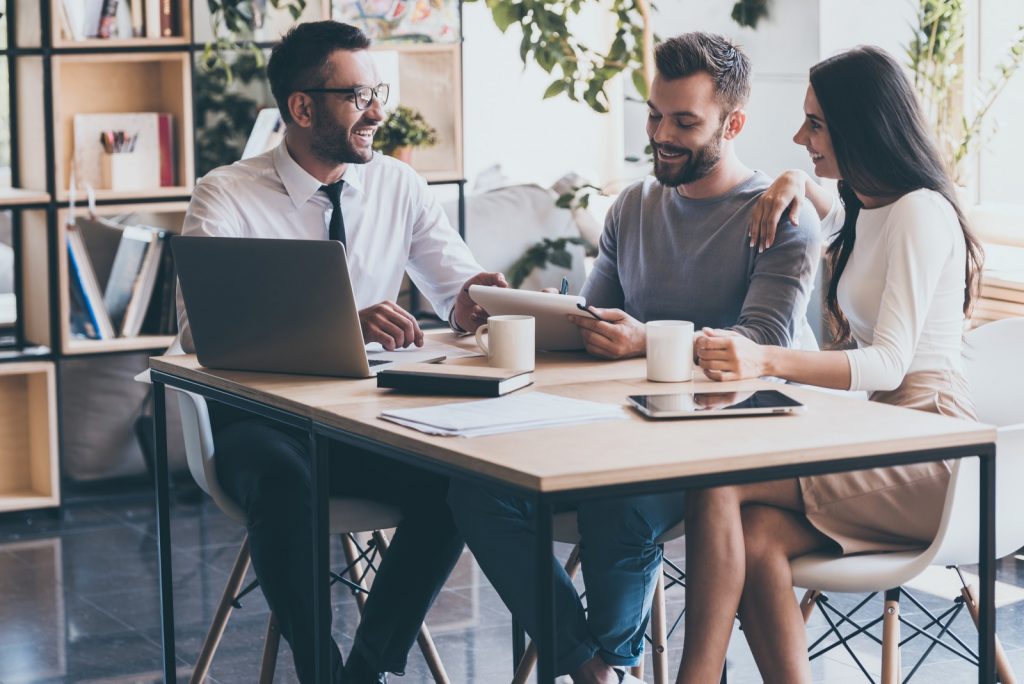 So you've decided to buy a new home — congratulations!
You're probably feeling a lot of emotions right now. Elation. Anxiety. And possibly confusion. You may wonder what's going to happen next. Or worry that if you forget to send a document or make a call, you'll derail the process.
First of all, relax. Most likely, you're surrounded by professionals who've been through this before. But just in case you're looking for backup, we've assembled the steps you can typically expect and what you'll need to do. Whether you're at the start of this journey, or nearing its end, we hope this guide will help you feel ready and at ease.
1. Getting pre-approved
If you haven't done so already, contact a lender for a pre-approval. You can even start the process online by finding a local lender on Zillow.
A pre-approval is a letter from a lender that indicates you can qualify for a loan of a certain amount. It shows your agent and sellers that you're a serious buyer and can be advantageous in hot markets where sellers may be considering several offers.
To pre-approve you, the lender will ask some questions and pull your credit report. Your credit report shows your credit accounts, payment history, and your credit score. Lenders use this information to determine how much credit you can qualify for. Knowing this amount will save you time since you'll be able to focus on homes in your price range.
2. Making an offer
With your pre-approval in hand, it's time to visit properties that fit your criteria (e.g., house size, lot size, location). Your agent can help you understand which homes are likely to be good matches and schedule showings.
When you find THE ONE, your agent can help you structure an offer. Your offer will detail how much you plan to put down in earnest money with your offer, your down payment, and how much you plan to finance. The earnest money deposit is typically 1% to 2% of the sales price. The funds are released from escrow and applied to your down payment at closing.
Offers also can include contingencies (conditions) such as the timing of home inspections or having the seller pay to refinish the wood floors.
If your offer is accepted, it becomes a binding agreement for both you and the seller, so be sure you read it carefully.
3. Applying for your loan
Now's the time to actually apply for your mortgage. You can use any lender for this step. In other words, you are not obligated to use the lender that pre-approved you. It's also a good idea to get quotes from multiple lenders. You can use Zillow to request multiple quotes, anonymously.
Lenders will ask about your employment, income, assets, and debt. Be prepared to provide current bank statements (checking and savings accounts) and your W-2s going back several years. You should also be ready to explain any discrepancies in your credit history such as late bill payments, being turned over to a collection agency, or a bankruptcy. It's a good idea to have dates, amounts, and causes ready if you think these situations will come up.
There may be several types of mortgages that fit your situation. These could be fixed or adjustable rate mortgages, conventional or government issued (VA, FHA, USDA). If you are applying for a VA loan, you will need proof of your military service. The lender should explain the best fit for you, and provide you with a Loan Estimate, which outlines the terms of your loan, with estimated closing costs, interest rate, and monthly payments (principal, interest, taxes, and insurance).
Closing costs include settlement fees (the cost of doing the loan) plus any prepaid expenses (put in an escrow account) for homeowners insurance, mortgage insurance, and taxes.
By law, you must receive Loan Estimates within three days of your application.
4. Loan processing and underwriting
When you decide to move forward with a loan, a lot will start to happen behind the scenes in the lender shop. The loan processors who work for the lender will gather documentation about you and the property to assemble a "loan package" for the underwriter.
Underwriters are the key decision-makers when it comes to approving your loan. They will double check the accuracy of the documentation in your file and match your eligibility and the property type against the loan product you have applied for.
Once everything has been reviewed, the underwriter is the one who will approve or reject the loan. They also may approve your loan with certain conditions, such as asking for an explanation about late payments or collections in your credit history.
5. The pre-close
The lender notifies you once you're approved and sends your loan file to the title company (or an attorney) for the actual close of your loan. It will be a lot of paperwork, but fear not! One of the most important documents, the Closing Disclosure, should look familiar. It is the finalized version of your Loan Estimate, confirming the cost of your loan.
The Closing Disclosure should closely match your Loan Estimate. By law, you have the right to review the Closing Disclosure three days prior to the close.
You're nearly there…but there is one last thing. You will need to do a final walk through of the property 24 hours prior to the close to make sure any contractual repairs were completed and the home is vacant and ready for you to move in.
6. Closing your loan
Now all that stands between you and homeownership is signing your paperwork at the close. Be sure to bring two forms of identification to the close and be prepared to spend at least two hours. Most of all, don't rush and don't be afraid to ask questions if you don't understand something.
Key documents for your review will include:
the Closing Disclosure (which should have been provided to you three days before the close)
the Promissory Note (showing the loan amount and terms of the loan)
the Deed of Trust (which secures the note and gives the lender a claim against the home if you fail to live up to make your payments)
Certificate of Occupancy (which, if the house is newly constructed, you'll need to move in)
You also may need a cashier's check if your closing costs are not rolled into the loan amount. And a checkbook will come in handy for any small differences in the estimated balance owed and the final amount.
When everything is signed, you're done! The title company completes the recording and funding of your loan. Congratulations! You now own your new home.
Source: https://www.zillow.com/mortgage-learning/6-steps-to-expect-during-the-mortgage-process/